On Friday, April 28, supporters of women's equality in Western Pennsylvania will gather at the Fairmont Hotel in Pittsburgh for the Women's Law Project's annual Rights to Realities event to have fun, celebrate our recent victories, AND reach an ambitious fundraising goal to support the expansion of the western Pennsylvania program, increasing the capacity of the WLP to advance equality and freedom for women, girls, and the LGBT community.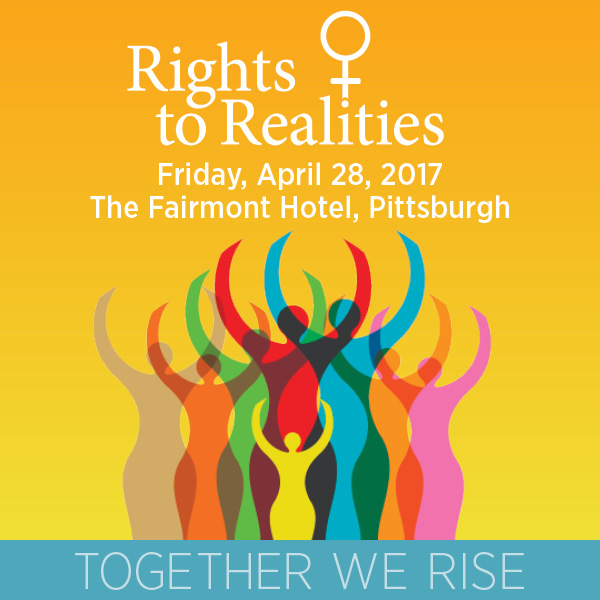 Friday April 28, 2017 * The Fairmont Hotel, Grand Ballroom
            510 Market Street * Pittsburgh, Pennsylvania
2017 Rights to Realities Program
5:30 PM              Wine Reception and Silent Auction
6:00 PM              Hors d'oeuvres buffet and Musical Entertainment
7:00 PM              Program, Live Auction, Say What? Contest Winner Announced
Laugh & #Resist
Laughter can be part of our resistance.
Don't miss the raunchy puppets of Maggie Carr (Hand to God, City Theatre) and Connor McCanlus, who will act as our Feminist Anger Translators for the evening.
Don't miss it!
Accessibility Notice: This event is wheelchair accessible. Individuals requesting other accommodations should contact Brittany Green, Women's Law Project Development and Administrative Coordinator for the Western Pennsylvania Office, at (412) 281-2892 or bgreen@womenslawproject.org by April 1, 2017. We will do our best to ensure this event is accessible to all who are interested in attending.
Thank you to our event co-chairs Deb Moretti and Paula Harris, and our wonderful host committee.